When I first moved to Toronto five years ago, I was amazed by the city's vast array of vibrant neighbourhoods, each with their own well-defined cultural histories. I would jog across town and catch glimpses of the cosmopolitan dream that was proudly promoted as Toronto's greatest strength. One day, in search of a barbershop that could cut Black hair but didn't have massive lineups like the shops downtown, I ventured to the Barbers of Eglinton—far north of anywhere I'd been in the city up to that point. Dancehall was pumping out of a small radio between commercials promoting club nights. There was an ancient-looking promotion for something NBA-related featuring faded, life-sized cutouts of long-retired basketball players along the wall. I noticed a Digicel ad promoting calling cards to phone your relatives back in the islands. My barber used a foam sponge with holes in it to give me twists. I bought one from him to use at home.
After that, I kept coming back to the neighbourhood, feeling like I'd uncovered a gem in the rough. I'd buy fragrant bags of hibiscus from All Season Food Market. I would order sizzling cuts of jerk chicken from Rap's, cooked in a horizontal, rotating barrel on the sidewalk and then roughly chopped with a butcher's knife by Horace "Rap" Rose himself. I'd bring home boxes of frozen veggie patties from Randy's Take Out that were ridiculously flavourful and somehow even better than the traditional beef ones. The neighbourhood was a stark contrast to growing up in Edmonton where there was only one Black barbershop and one Jamaican restaurant in the entire city. Outside of Randy's, I'd chat with the guy on the corner selling bootleg DVDs of current mainstream films as well as Jamaican classics like Shottas and maybe buy one disc at random that had an intriguing title. This was Little Jamaica.
I initially became aware of this neighbourhood because of a 2006 music compilation called Jamaica to Toronto: Soul, Funk & Reggae 1967 – 1974 that came out on an American reissue label called Light in the Attic. It was compiled by DJ and Canadian music historian Kevin "Sipreano" Howes. Listening to this record encouraged me to learn more about Toronto's rich Caribbean history. From at least the 1960s on, Eglinton West became colloquially known as Little Jamaica because of its significant West Indian population. Many Jamaicans came to Toronto to find work as railway porters, blacksmiths, and nurses. Others simply wished to flee the persistent political violence unfolding in their home country. Canadian immigration laws were modified in 1967 with the creation of a points system that reduced discrimination and made it easier to reunify families. As a result, around 100,000 Jamaicans immigrated to Toronto in the '70s and '80s, mostly settling along Eglinton West, making Little Jamaica one of the largest Jamaican expatriate communities in the world.
This subsequently turned the neighbourhood and the city into a global hotbed for reggae music. Several reggae labels sprung up in Toronto—Summer Records, Half Moon, Boss Records and Micron Music Canada. Little Jamaica was home to several record stores including Trea-jah-Isle Records, Monica's, King Culture Records and Videos, Record Factory, and Joe Gibbs Records. Horace Rose, the proprietor of Rap's, used to run Joe Gibbs Records and was a producer in his own right, making songs with Dennis Brown and Gregory Isaacs. Horace's brother Michael Rose was a lead vocalist for Grammy-winning Jamaican reggae group Black Uhuru. They released a song about the neighbourhood called "Youth of Eglington" on their album Red in 1981.
Artists like King Jammy, Jackie Mittoo, Earth, Roots and Water, Leroy Sibbles, Stranger Cole, Leroy Brown, and Johnny Osbourne helped to develop a homegrown reggae scene with quality on par with what was happening in the Caribbean, mostly recording at Summer Sound, Great Shakes, and Kinck Sound. At the time, regional radio wouldn't play reggae at all, and Canadian audiences largely ignored music by local reggae artists in lieu of Jamaican records. But these musicians paved the way for the patois-inflected flows of contemporary Toronto artists like PARTYNEXTDOOR, Kardinal Offishall, and Drake.
You'd think a storied local history like this would be actively celebrated and widely promoted. But when I started visiting it, I couldn't help but feel like Little Jamaica had become something of a forgotten community. The streets were pockmarked with recently closed stores. I'd never seen anyone write about it in the newspaper. You'd only see the city celebrating Caribbean culture when it was Caribana weekend. I was surprised that there weren't banners hanging from the street lights along the strip of Eglinton West proudly announcing "Little Jamaica" like the similar flags in other neighbourhoods.
Instead, the street signs on the block said "International Market," which felt meaningless and strangely broad, reminiscent of the International Foods aisle at FreshCo. One time when I was charting out the circuitous journey from my house near Ossington and Dundas to the area on Google Maps, I couldn't help but notice something odd. Displayed in bold, capitalized print across the map were neighbourhoods like Greektown, Little Italy, Chinatown, Little Portugal, Koreatown, and Little Malta. But the words Little Jamaica were nowhere to be found.
*
The earliest discussion of an Eglinton West subway extension came all the way back in 1993 as part of Premier Bob Rae's Rapid Transit Expansion Plan. The holes were dug for a future Allen Station as part of an Eglinton West line but then, Progressive Conservative premier Mike Harris took power, cancelled the project and refilled the previously excavated caverns with dirt. The Eglinton Crosstown LRT was announced in 2007 and work began in 2011. It was a part of then-Toronto mayor David Miller's Transit City plan to expand public transportation with seven proposed LRT lines. After cuts by incoming mayor Rob Ford, the Eglinton line was one of the only LRT lines that survived. The line will extend from Kennedy in the east across the city along Eglinton to Mount Dennis, with a future proposed expansion to Pearson Airport in the works.
According to an Eglinton Crosstown fact sheet, projected ridership of the LRT will be 5,500 commuters per hour in each direction at peak time by 2031. This would provide relief for the 32 Eglinton West bus, which was Toronto's second busiest bus route in 2012 with 48,700 users per day. Travel time will be cut in half. All of this stands to benefit a long-underserved area and connect this community to the rest of the city in a more substantial way.
But the construction has taken a massive toll on the community. All along Eglinton West, there are large fences and barriers that make it difficult to access stores, make parking impossible, and limit foot traffic. My girlfriend lives in the area, so I've noticed the effects firsthand. Today, large swathes of the north side of Eglinton West appear to be completely inaccessible. The intersection of Eglinton West and Dufferin in particular is a total quagmire. In order to continue along the strip, you're forced to cross a flimsy-looking plywood footbridge with a massive yawning hole beneath it. Not exactly tourist-friendly.
The construction has been in progress for almost a decade. As a result, 140 businesses have closed in the area since the project began. Metrolinx, the company contracted to build the LRT, refuses to compensate businesses for lost revenue. This is despite the massive billboard looming over the neighbourhood promoting a website run by Bridgepoint Financial called CrosstownHelp.com that offers business loans to those who have "experienced cashflow issues due to the interruption of operations" caused by light-rail construction.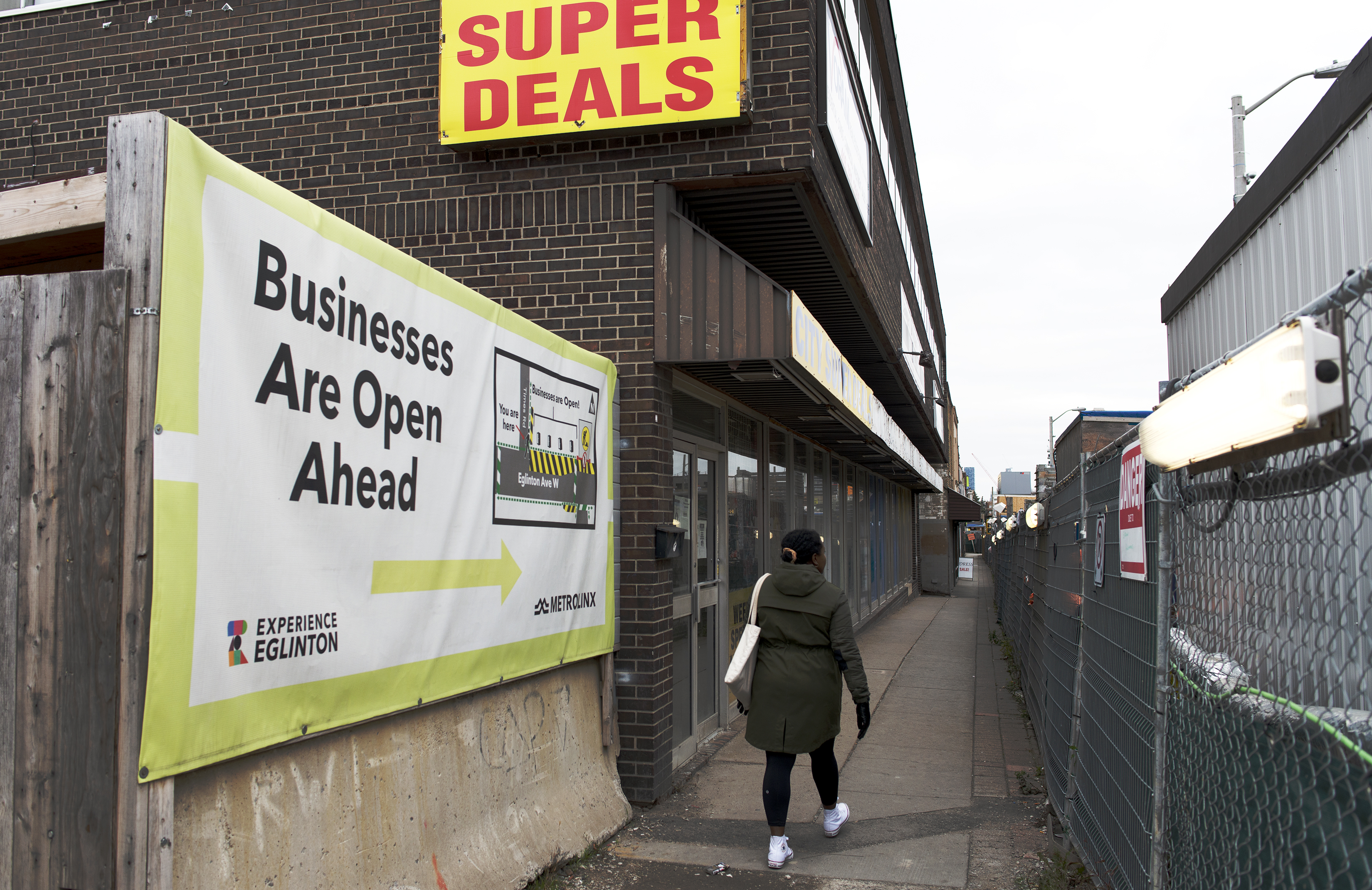 After many delays, the Eglinton Crosstown LRT is slated to be finished in 2022. But after that, the Eglinton Connects study proposed by the city in 2014 is scheduled to go into effect, phased in from 2025 to 2050. Their plan fails to acknowledge the existing community but details massive changes to the area including widening sidewalks, planting trees, connecting Eglinton to surrounding trails, creating new parks and building separated bike lanes. All of which means even more construction. How many local businesses will survive in Little Jamaica? And who will actually benefit from this expansion?
In his 2017 study, "Rail-transit-induced gentrification and the affordability paradox of TOD," Hongwei Dong observes that transit-oriented development can "promote economic development and increase nearby property values by improving transportation accessibility and offering [a] more livable environment." But rail transit can also act as a "gentrification trigger," creating an "affordability paradox" where "low income households which would benefit from additional accessibility provided by upgraded transit are forced to move by rising rents and housing costs."
On August 17, I tweeted about the situation in Little Jamaica and Metrolinx responded by saying that they've worked closely with "local councillors, City of Toronto staff, Toronto Police Services, local Business Improvement Areas (BIAs), residents and businesses to monitor and mitigate impacts, where possible." They pointed to a program they created in collaboration with the local BIAs and the Economic Development and Culture Division of the City of Toronto called Experience Eglinton, a campaign that includes "billboards, TTC platform posters, radio and commuter paper advertisements" encouraging people to shop locally. I noticed one such banner hanging from a construction fence in front of a particularly obstructed group of shops. The sign said, "It's business as usual on Eglinton."
Metrolinx ignored a later tweet I sent them about compensating local businesses for lost revenue. In 2016, they announced a Community Benefits Agreement program which promised to give 10 percent of the remaining work on the Eglinton Crosstown project to "equity seeking groups," such as women and visible minorities. As of March 2020, they've hired 162 apprentices and journeypersons from historically disadvantaged communities. But that's only a small fraction of the total labour force required to build the entire 19-kilometre, 25-station light rail transit line. And it's still unclear how many of those workers are Black or from the Little Jamaica area. Metrolinx also recently reneged on their promise to donate 32 metres of land as a site for a Jane-Finch community centre as part of their Finch West LRT construction plans, dashing the hopes of another predominantly Black neighbourhood.
Last year, an unlikely event occurred. East of Little Jamaica, in the affluent Forest Hill neighbourhood, Metrolinx announced plans to close Bathurst Street a block north of Eglinton West for seven months to speed up the construction of the Forest Hill LRT station. They said the closure would shorten overall construction time for the Crosstown project by three months. The response was swift and angry. Concerned residents and business owners from the Forest Hill neighbourhood contacted their city councillors. They talked to the press. They complained to Metrolinx and their local Business Improvement Associations about the effect a blockade would have on the neighbourhood's businesses. And in the end, they won. Not only did Metrolinx cancel their plans for the proposed Bathurst street closure, they even made an apologetic statement to the people of Forest Hill.
How did Metrolinx determine that the inconvenience of the closure would be too great a strain on the community? According to email correspondence I obtained between a Metrolinx representative and an Eglinton West resident regarding the Bathurst closure, Metrolinx acknowledges they "could have done a better job engaging the community and the councillors" and they "understand the community did not feel this benefit outweighed the impacts on area residents and business owners." When asked by the resident whether any members of lower income communities were consulted, Metrolinx responded by saying they sent out a survey about the Forest Hill Acceleration – Bathurst Street Closure through their social media accounts and via E-blast to their citywide station subscribers asking for feedback and received 465 responses.
That was enough to get them to change their plans. So, what's the difference between Forest Hill and Little Jamaica? In 2016, 43 percent of people in Keelesdale-Eglinton West identified themselves as a visible minority, as opposed to 28 percent in Forest Hill North and 17 percent in Forest Hill South. During the same period, residents of Forest Hill North and South had average household incomes of $70,920 and $94,536 respectively, while people who lived in Keelesdale-Eglinton West had a median household income of $57,780 a year. Low income people are less likely to have internet access or the time away from work to fill out a random survey they may or may not see.
 * 
The plight of Little Jamaica fits into a cycle of development that allows formerly thriving Black neighbourhoods to fall into neglect, creating an easier path for gentrification to take hold. There are many examples of this type of Black displacement throughout Canada's history. Hogan's Alley was the unofficial name of a racially diverse neighbourhood on the Eastside of Vancouver. Home to Chinese, Japanese, and Italian Canadians, it was primarily known as the heart of the Vancouver's Black community. The city's first Black church was founded in the area by Nora Hendrix, grandmother of Jimi Hendrix.
Hogan's Alley was demolished in 1970 to make way for the reconstruction of the Georgia Viaduct, based on city planner Leonard Marsh's recommendations in his 1943 report, "Rebuilding a Neighbourhood: Report on a Demonstration Slum Clearance and Urban Rehabilitation Project in a Key Central Area in Vancouver." He believed that the Eastside was a "slum" that needed to be restructured to protect the "morale" of the rest of the city: "The biggest cost of the slum to society is apathetic, dreary living, which is a menace to every aspect of healthy citizenship." He was also aware that the Black community would likely have trouble relocating after this redevelopment.
Africville was a community of Black Canadians on the south shore of the Bedford Basin just north of Halifax, Nova Scotia, that was started in 1848. Halifax isolated the community, refusing to provide them with proper roads, garbage disposal, clean water, or sewage services. The city of Halifax purposefully built their most undesirable buildings in Africville, including a prison, an infectious disease hospital, a slaughterhouse, a storage area for fecal waste, and a garbage dump. Designated a slum after over a century of mistreatment and having basic services withheld, Halifax City Council voted to forcibly relocate the residents of Africville in 1964. The entire area was razed, the last home destroyed in 1970. Part of the area is now occupied by a highway interchange that connects to the A. Murray MacKay Bridge.
Back in the 1830s, what we now see as Toronto's downtown core was once known as St. John's Ward. Located between College and Queen from University Avenue to Yonge Street, an escaped African-American slave from Kentucky named Thornton Blackburn bought several properties in the area, later offering other fugitive slaves an opportunity for cheap housing. The Black population of the neighbourhood continued to grow, joined by Irish and Italian immigrants and Eastern European Jews. Chinese immigrants moved to the area, making it Toronto's original Chinatown. The Ward was also home to the earliest gay and lesbian bars in the city. An area densely populated by people from foreign countries, The Ward became stigmatized as a slum. Starting in the 1920s, the area started being demolished, becoming the current site of City Hall, Nathan Phillips Square, and Toronto General Hospital.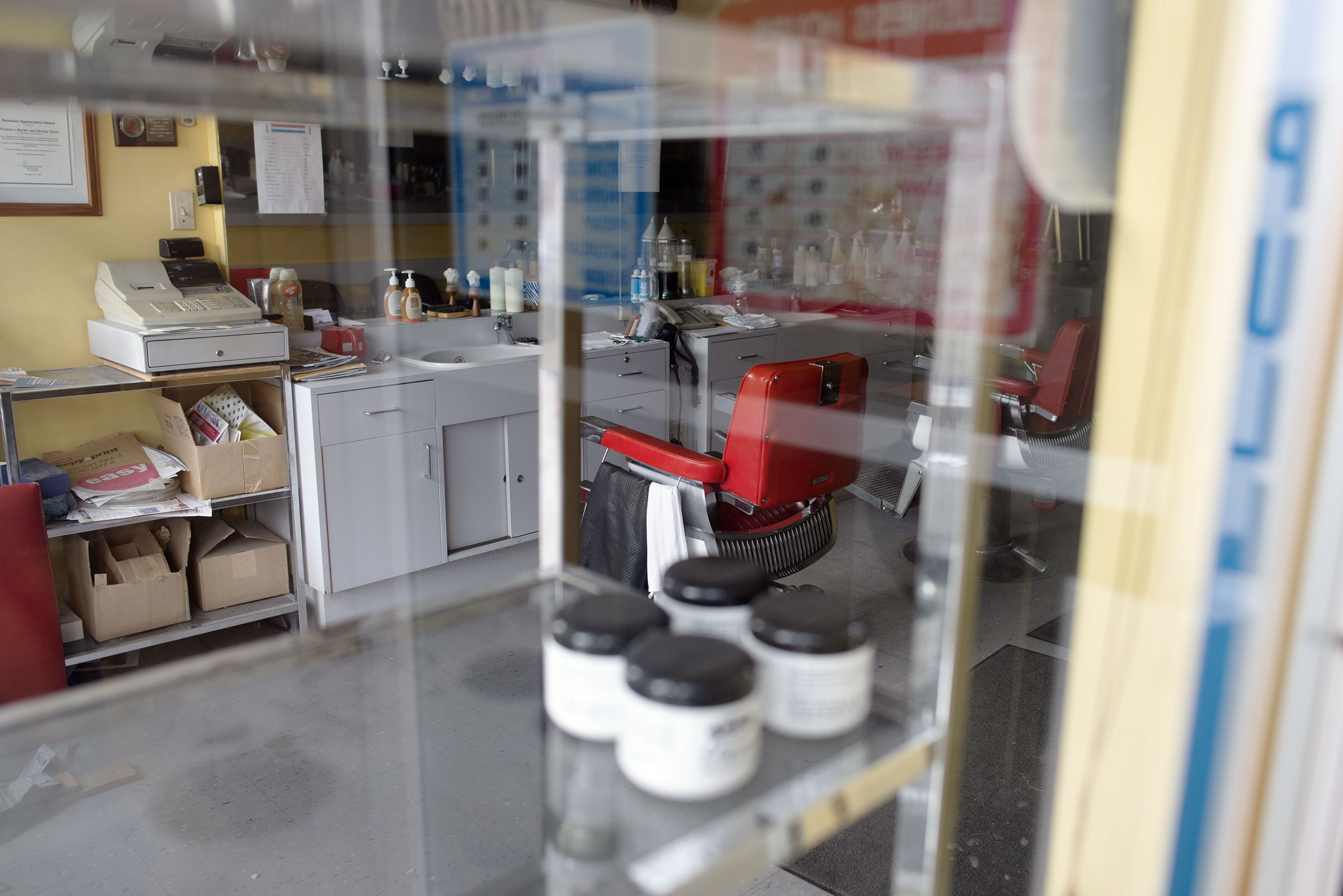 The aforementioned communities all have two things in common: they were home to large populations of Black people, and they were unofficial, disenfranchised areas that were neglected and forced to fend for themselves. Erasure of history is a primary feature of colonialism. Failing to respect the ethnic history of an area is a way of asserting dominance. One way to do that is by not officially recognizing the chosen name of a community. Another is to pretend that the community doesn't exist for long enough that it lags behind the rest of the city, creating a justification for its removal. Displacement looms large as an inextricable part of North America's history and this phenomenon is just another contemporary example of a long-existing pattern.
Seneca Village was a stop on the Underground Railroad and the first significant community of African American landowners in Manhattan until it was razed to make room for Central Park in 1857. After the Second World War, city planner Robert Moses popularized the urban renewal practice of building highways to get rid of "undesirable" neighbourhoods, displacing around 250,000 people in New York City through various construction projects. One example is the Cross-Bronx Expressway. Under construction from 1948 to 1972, it ripped the Bronx in half, exacerbating the economic disparity between the North and South.
An estimated 1,530 apartment buildings were destroyed in the predominantly Hispanic, Latino and Black neighbourhood of East Tremont, leaving around 5,000 people displaced. Morris Heights was also greatly affected. These communities were low income but self-sufficient areas. According to Robert A. Caro's Robert Moses biography The Power Broker, residents proposed an alternate route just two blocks south that would've only removed "six dwellings and nineteen families," but Moses consciously chose the more damaging option. Moses described apartments in East Tremont using inaccurate, overly disparaging terms, calling them "slums" and "tenements." This is a common developer technique: justifying urban renewal projects by vilifying a targeted neighbourhood to make outsiders more amenable to the proposed redevelopment.
Chicago's Near West Side, a "blighted" neighbourhood where 40 percent of the population was Black, was demolished to make way for the Eisenhower Expressway in 1949. The 15th Ward was home to a close-knit Black neighbourhood in Syracuse, New York, where migrant workers moved from the south to escape racial discrimination. Outsiders saw it as a "slum land" that was "ripe for redevelopment because of its proximity to downtown." The community was destroyed when Interstate 81 was built through the center of the city in 1961, helping to make Syracuse one of the most impoverished cities in the United States. All of these examples remind me of the 1963 interview with author James Baldwin where he says that urban renewal "means Negro removal."
*
In 2015, Toronto made a token effort to acknowledge Little Jamaica's relevance to the city with Reggae Lane. Formerly a nameless back alley known for drug use and crime, city councillor Josh Colle pitched the idea of dedicating a laneway to the community's rich music history to Arnold Rowe, vice chair of the York-Eglinton BIA. They commissioned a mural featuring local reggae artists and important Jamaican figures including Bob Marley and the Skatalites on a wall facing a Green P parking lot. Heritage Toronto installed a commemorative plaque nearby about "Toronto's Reggae Roots." It all feels a bit like a consolation prize for the impending loss of the neighbourhood, an artifact that the future inhabitants of the area will gaze upon and cluelessly wonder about. As stated by a local resident in an article about the naming of the laneway, "Eglinton Ave. West represents reggae, the back of it does not."
Reggae Lane is located next to a condo development that stands as a harbinger of what's to come. Announced in 2013, the website for Empire Midtown promotes their gleaming, futuristic tower on the corner of Oakwood and Eglinton West to "the tastemakers, trendsetters and early adopters" who want to benefit from the "major revitalization" happening on Eglinton West. It features a rooftop deck, something called a "DIY kitchen," and a yoga studio. One of their other sites mentions having "the Crosstown LRT right at your front door" as a prime selling point. Condos.ca lists their cheapest pre-construction unit at a price of $565,000, far beyond what someone living in the area now could afford. Looking into the lobby from outside, the check-in desk appears to be made of marble. The interior of the building looks like something out of an episode of Selling Sunset.
The community has made efforts to respond to the changing face of the neighbourhood in recent months. A GoFundMe started by a group called Reclaim / Rebuild Eglinton West aiming to make a grant fund to support new and existing Black businesses in Little Jamaica has earned over $20,000. On August 29th, the group threw a fundraising rally called Bana On The Block where locals marched along Eglinton West from Keele to Oakwood to protest the area's gentrification. But that event was marred by a physical altercation between police officers and a community member who jumped on top of a car after the march had ended. Four days later, a drive-by shooting at Spence's Bakery left six people injured, further shaking a community in need of positive momentum.
This summer, a report was released by Black Urbanism TO, Urban Rural & Suburban Architecture and Open Architecture Collaborative Canada called "A Black Business Conversation, On Planning for the Future of Black Businesses and Residents on Eglinton Ave W." It was the result of meetings that took place in February 2020 between community members and Black business owners in the area. In the report, it's stated that "BIAs in Little Jamaica (Eglinton Hill BIA, Fairbank Village BIA and York-Eglinton BIA) have a history of not being accountable and responsive to the Black business owners they represent" and that a "lack of support from BIAs, combined with the impacts of LRT construction have prevented revenue-generating and community-strengthening cultural events from being held in Little Jamaica."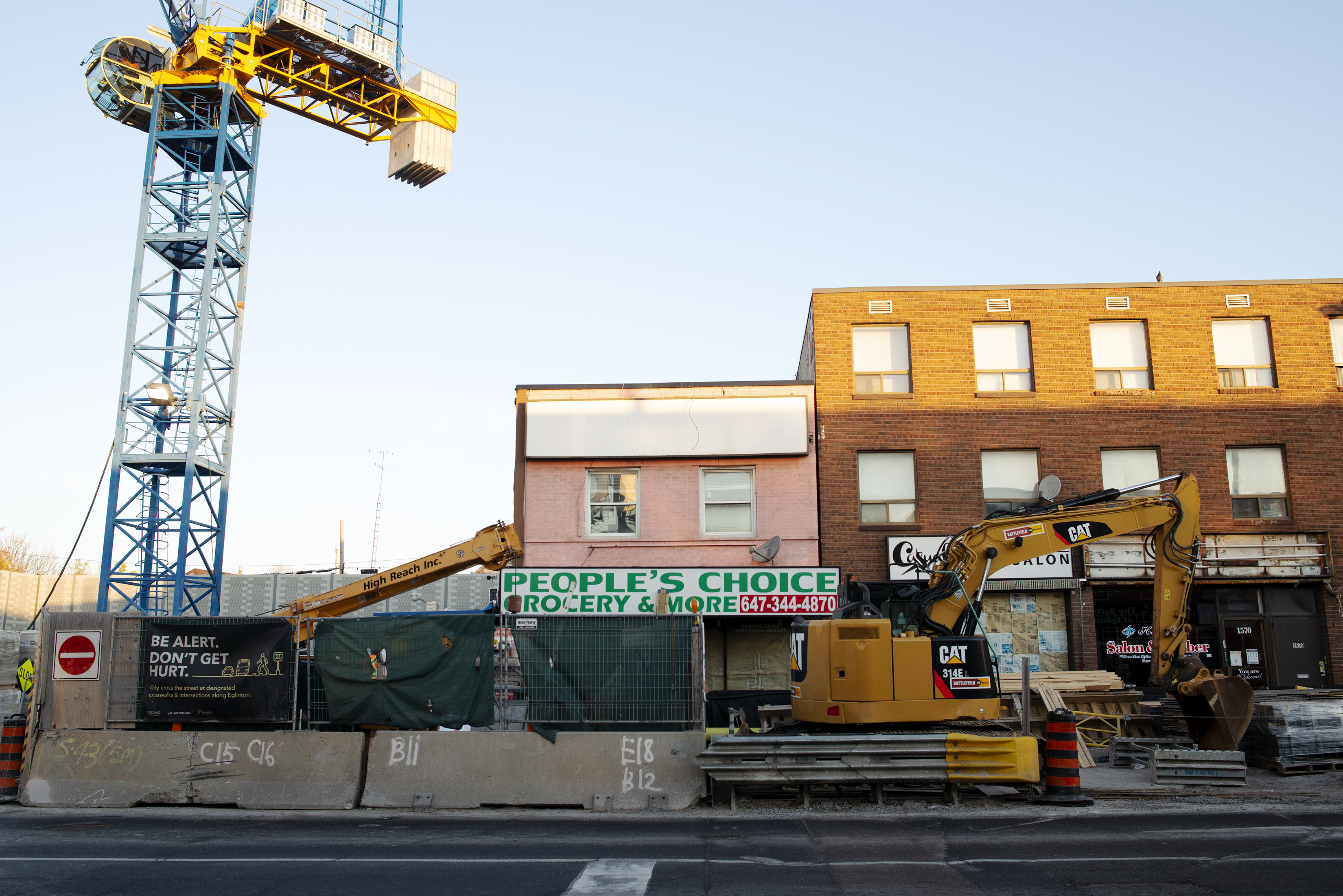 In the report, the area's Black business owners formally ask to "officially rename the area of Eglinton Ave West from Marlee Ave to Keele St from the currently named International Market to Little Jamaica," believing that "official recognition by the City and giving the area an appropriate name to better reflect its identity are two tangible actions that are integral to the economic sustainability of the area in the face of an uncertain future."
On October 1st, a motion started by Councillor Mike Colle to establish a Little Jamaica Heritage and Innovation Hub on that stretch of Eglinton West was passed unanimously by Toronto City Council. Heritage plaques and murals honouring Black civil rights leaders from the community are planned for the Dufferin, Oakwood, and Eglinton West LRT stations.The city promised tax relief for small businesses, while calling on provincially-owned Metrolinx to "immediately compensate" those that have been "devastated" by almost a decade of construction. But with no clear financial commitment made by either the city or the province, I worry that even if monetary help comes, it will be too late.
Before moving to Eglinton West, I lived in Roncesvalles, a traditionally Polish neighbourhood that has undergone massive population growth over the last few decades but is in no danger of losing its culture, with popular restaurants serving Polish cuisine and celebrations like the Roncesvalles Polish Festival happening every summer and drawing many international visitors. Events like these are annual reminders of an area's heritage that give the community a reason to cherish and celebrate history. The York-Eglinton BIA only has two Black businesspeople out of seven members on their Board of Management. Maybe if that number was higher, we'd see more interest in a similar event happening in Little Jamaica in the future.
My favourite song on the Jamaica to Toronto compilation is by Noel Ellis, son of Alton Ellis, the Godfather of rocksteady. It's called "Memories." A wistful slice of dubbed out roots reggae recorded at Summer Sound Studio and released in 1983, the song finds Ellis ruminating about living far away from his birthplace of Kingston, Jamaica, after moving to Toronto in 1970. The song starts solidly but begins to slowly decompose over time, eventually dissipating into a sonic morass of bass and echoes. Ellis's haunting voice wails into the cavernous ether about "memories of our days gone by, memories of youthful days." By the end of the track, only the reverberations remain. The arrangement for "Memories" matches what is happening to Little Jamaica. If concrete action isn't taken soon to solidify the neighbourhood's place in the city, all that Toronto's Afro-Caribbean community will have left are memories of days gone by.